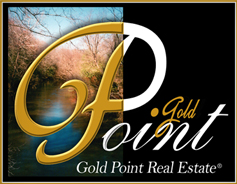 Gold Point Real Estate ®
7518 Elkhardt Road
Richmond, Virginia 23225
Office: 804.272.SOLD
(804.272.7653)
Licensed in VIRGINIA
Welcome to Gold Point Real Estate ®
Thank you for stopping by and visiting. We hope you will find the site to be enjoyable and informative. Feel free to roam around, and please, come back often as our site is always in motion.
If you are looking for information on buying a home, you have come to the right place. We have made searching for your next home as easy and fun as possible, so sit back and relax. If you are looking to live in the country with some acreage, such as Goochland, Louisa, Powhatan, Hanover or New Kent, we have it all right here. If you are thinking of a lovely subdivision in Henrico, Glen Allen, Chesterfield and Hanover, or perhaps city living in Richmond, Virginia, you will find it here as well. Looking for raw and undeveloped land? You will find it on our search page.
There is a very good reason why 80% of our business comes from past clients referring their friends and family and coming back to us again and again. We have and will always put our clients and customers first, as you are our only true asset.
Thank you for your visit, and we hope to hear from you soon.